My holiday escape: Exploring Victor Harbour and Urimbira Wildlife Park
Australia is very famous for its beaches, natural landmarks and wildlife. I was very excited to see all this when I applied for my study visa to Australia. Upon arrival, next day I went to one of the most beautiful beaches in Adelaide. Since then, I have been to many beaches, wildlife parks and islands in South Australia. When I got Christmas and New Year holidays, my sister asked me if I want to go somewhere and I instantly said yes. This time I wanted to explore Victor Harbour and Urimbira Wildlife Park. Victor Harbour is a popular town in South Australia located on the south coast of Fleurieu Peninsula. It is a famous tourist destination which is crowded throughout the year, especially in summer season. Urimbira Wildlife Park is just 5 minutes away from Victor Harbour. You can see many wildlife animals including koalas, kangaroos, crocodiles, dingoes and emus.
Victor Harbour
It was a sunny day in South Australia. We left home around 10 am in the morning. We stopped at Oporto which is a famous fast food chain in Australia, to pick food for lunch and headed off towards Victor Harbour. On the way, I witnessed beautiful scenery in surroundings and a Koala was also spotted nearby road. It was such an exciting experience and I was very much looking forward to my day trip to both places.
After an hour, we arrived at Victor Harbour. We parked our car nearby and started walking towards the granite island while holding our food, camera and other necessary stuff. The view of the island was breathtakingly beautiful. There was a park and further down was a huge blue colored beach.
We saw lots of people enjoying the camel ride on the beach sand. We had to cross the jetty over the water in order to reach the other side of the island.
You can also take a ride on the only horse-drawn tram in Australia to and from the island. We decided to skip the ride as we wanted to walk and enjoy the views on the way. I took a few pictures of that old style tram which was full of tourists. People and kids were enjoying the ride completely and I could tell how excited they were by looking at their smiling faces.
After reaching on the other side, there were a large number of people enjoying at the park. Some were sunbathing while others were busy taking pictures. This spectacular island is in the middle of the sea and includes park, penguin center and outstanding views.
We stayed around for a while and sat down in the park to have lunch. Here I want to warn you, there will be lots of birds around the park so be aware of them when you are eating food as they are also very hungry like us hehe.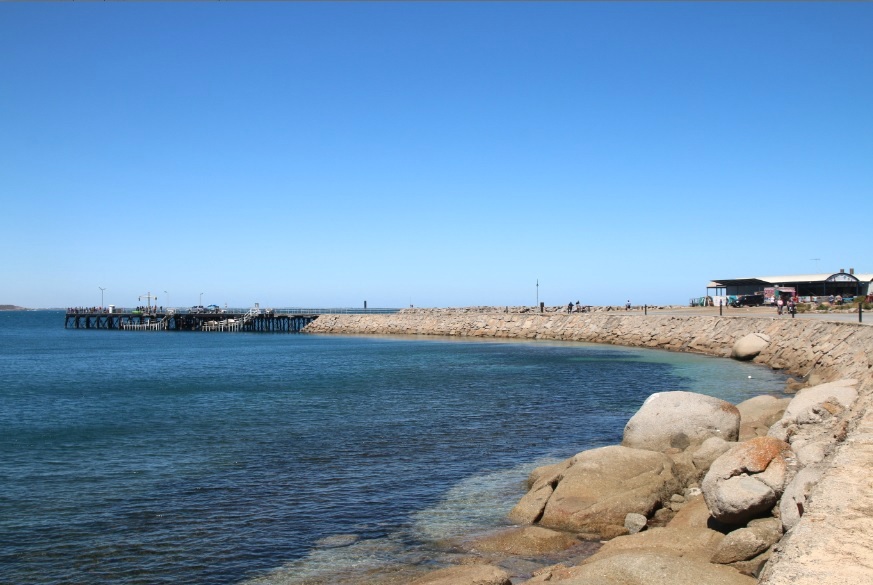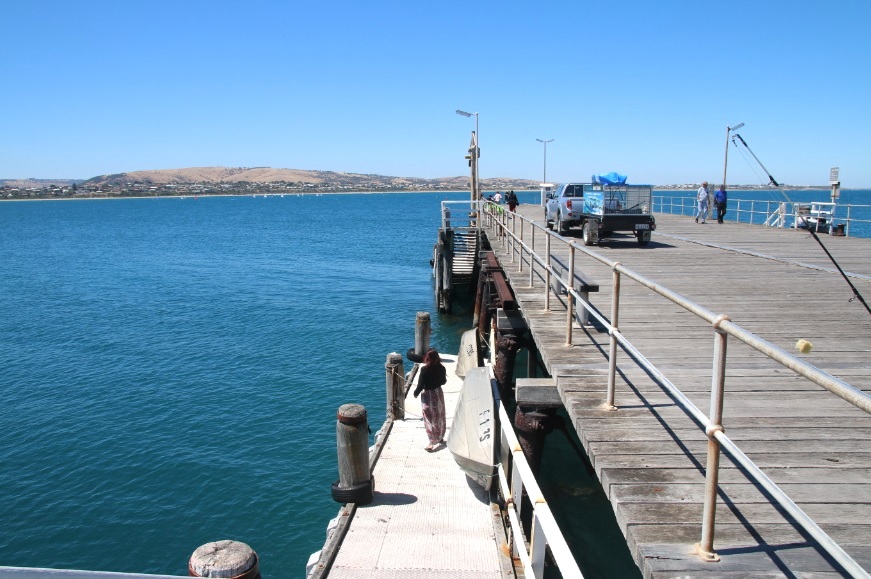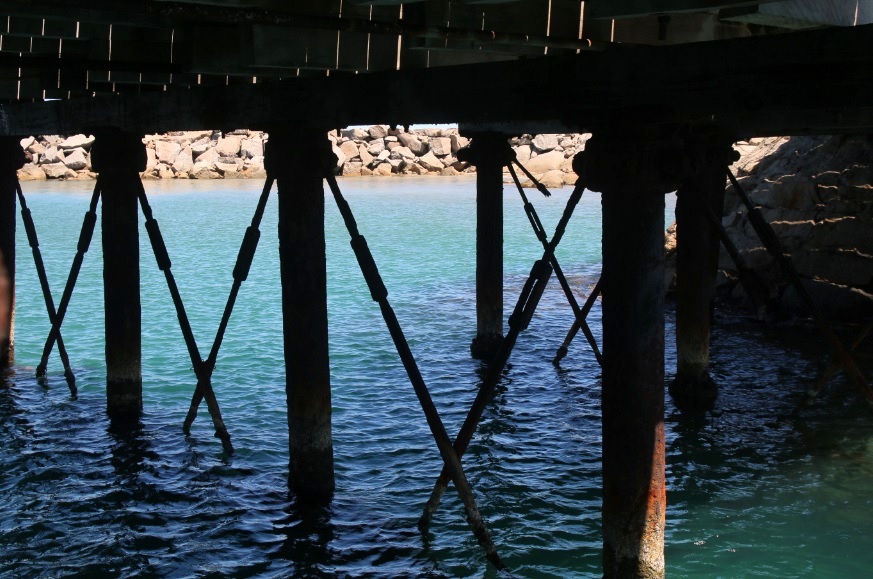 After finishing lunch and feeding a lot of birds, we walked down a small ship dock in between the sea. We sat there for a while enjoying the cool breeze and spectacular views.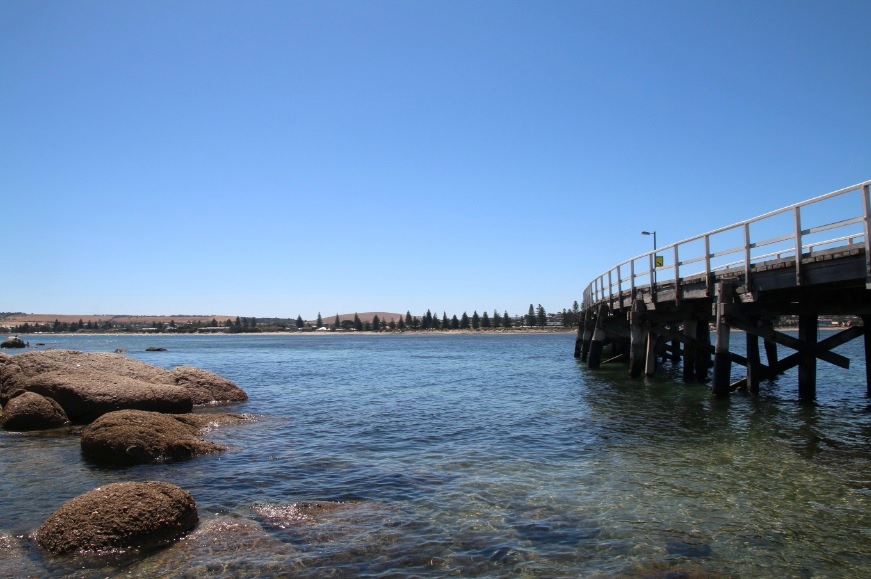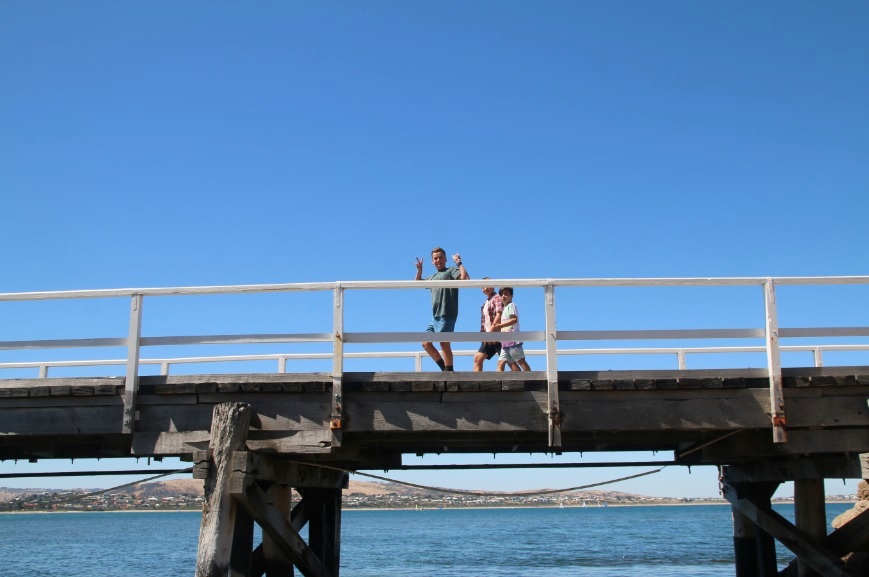 There was another gorgeous spot nearby the park where we could easily walk in the water. It was so much fun doing it in the scorching heat of South Australia.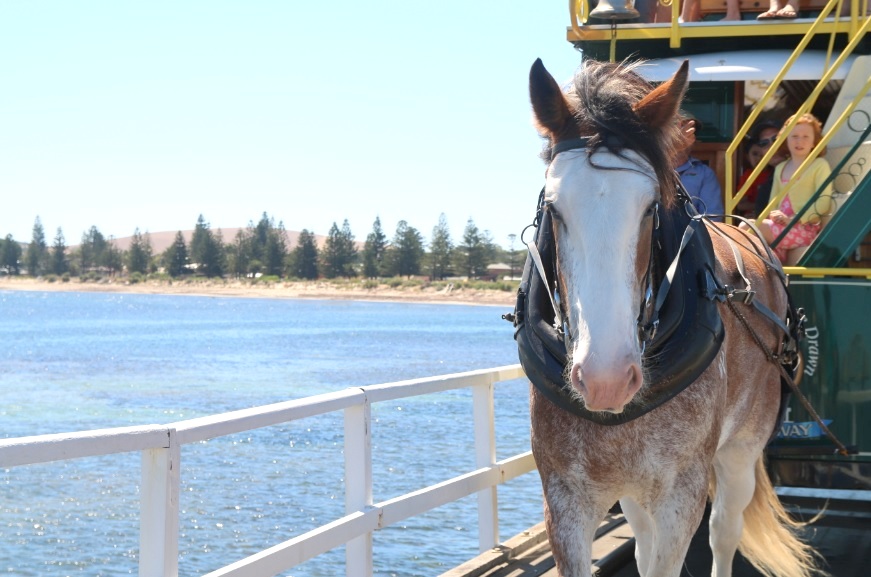 I advise you to wear comfortable shoes when visiting this place as you'll have to walk a lot. It was late afternoon when we decided to walk back as we had to visit Urimbira Wildlife Park which was going to close in 2 hours. We walked over the jetty again and within few minutes reached near the parking lot. There were few kiosks nearby with a variety of food and other items. From one of the kiosks, I bought delicious almonds in three different flavors; salt, vinegar and chili to take back to home. We headed off to Urimbira Wildlife Park which was just 5 minutes away from Victor Harbour.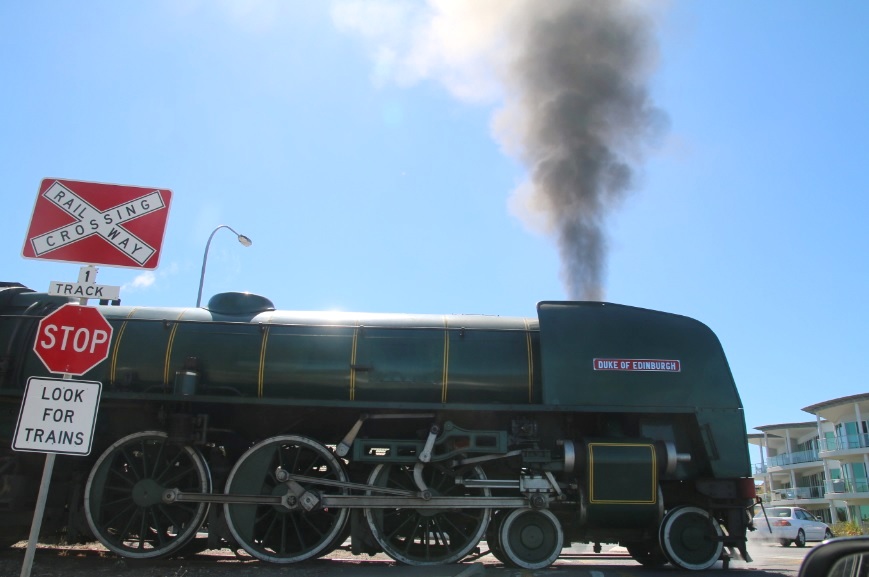 On our way, we spotted an old fashioned train named 'Duke of Edinburgh' which travels between Victor Harbour and South Australia.
Urimbira Wildlife Park
It was around 3 when we arrived at Wildlife Park. We rushed towards the ticket center because we didn't want to get late to see Koalas. Visitors can get close to koalas in the park every day at 11 am, 2 pm and 4 pm and I was lucky enough to arrive before time. There was snake handling session at 4 pm which I didn't choose because of my fear of snakes. The tour guide instructed us to the spot of koalas. Passing through narrow routes and listening to the sounds of birds, we finally reached Koala place inside the park. There were already a few people waiting to see these cutest creatures. We were not allowed to cuddle them but if you want to experience this, I recommend you to visit Gorge Wildlife Park in South Australia where you can hold a koala for free (just need to buy entrance ticket).
I got really excited after seeing 3 big koalas coming with the keepers. One of them instantly ran up the gum tree while others started walking all over the place. They seemed very friendly with all the people around.
We stayed there for some time, took lots of selfies with them and moved ahead.
After the amazing koala experience, we hand fed a few kangaroos and watched them playing nearby.
There was a beautiful white peacock sitting calmly on the grass. I preferred to not disturb him and only took a few photos from far away.
A few emus were making noise from their area. I tried to go near them but failed because they were being very cheeky.
Afterward, we saw a cute miniature horse and many birds while walking back. Park was about to get closed so we rushed towards our car and headed off back to home.
This was all about my adventurous trip. If you are looking for a place to visit in coming holidays, then I recommend you to go to Victor Harbour and Urimbira Wildlife Park. Trust me you are going to love every bit of your trip!
Latest posts by Madiha Khadim (see all)