Sydney: our initial entry to Australia under Visa 189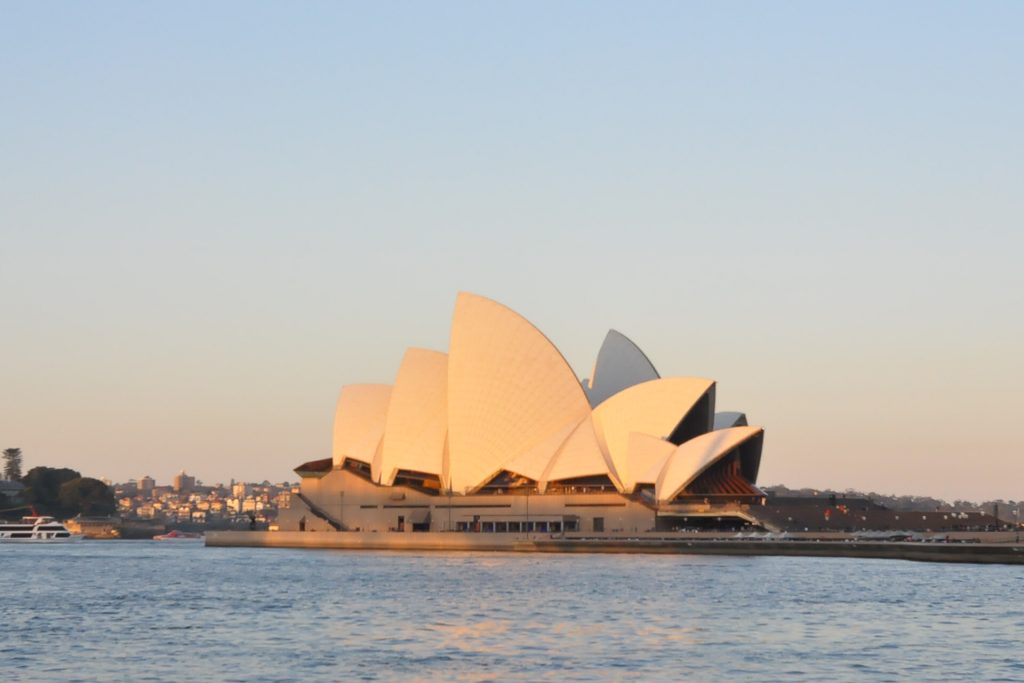 Here's a brief overview of our visa application, how we prepared for the initial entry trip, our itinerary, and our impressions on Sydney.
About our Visa 189 application
My husband, our nine-month-old daughter, and I went to Sydney to fulfill our initial entry to Australia being granted the Skilled Independent Visa 189.
For a brief overview, my Singapore-based husband lodged his application for Visa 189 (Skilled Independent) in August 2015. I was applied as his dependent and when I got pregnant, he added our soon-to-be daughter as another dependent.
In March 2016, we submitted the last requirement, which was my NBI clearance that took quite longer than expected since we had to settle my derogatory record caused by the DOST scholarship I had in college. After almost two years of gathering requirements and application process, our visa was approved in April 2016.
Along with the email from Australian immigration is the notice that we should make our initial entry until November. 'Oh why so soon?' I said to myself. Perhaps it's because the husband had his medical checkup in November of last year. Well, that's just a theory.
So anyways, since the initial entry date is too near for us to pack our bags and settle in Oz for good, we decided to make our initial entry in September and stay for only a week. And we chose Sydney.
Read more about our visa application here: 10 steps for Visa 189 application
Why chose Sydney for the initial entry?
Being immigrant Visa holders, you can choose any state you want to visit for your initial entry. We chose Sydney since it is the major face of Australia to the world, so might as well see what it's really like.
We also considered visiting Melbourne but we have beforehand decided that it would be our state of migration. Thus, we set aside Melbourne in our initial entry trip since we will eventually go there anyways.
Our airflight via Cebu Pacific
The hubby booked our round trip tickets (Manila-Sydney-Manila) via Cebu Pacific a few months before the actual trip so it wont be that expensive. We also purchased the Preferred Seats that come with a bassinet. I say it was a good decision because the seats got huge leg room, bassinet, and are very near to the restrooms. On the way to Sydney, we even got the three-seater all to ourselves as the third seat was vacant. That gave us additional space to lie down, change baby's diaper, place our stuff, and more.
Well for a budget flight, you can't expect much. There was no TV to entertain you in an 8-hr flight, no free in-flight meals or snacks, and no souvenirs. Haha! However, the flight attendants were very friendly and accommodating to our every needs. And we had a smooth flight in general, albeit the baby wanting to be constantly carried. Hehehe.
Our arrival at Kingsford Smith Airport
Upon arrival, we queued for the immigration, and thankfully, we were given priority since we have a baby with us. The officer asked only for our passports. The hubby volunteered to give the Visa Grant documents, but the officer said it's no longer necessary. After that, hooray! We have made our initial entry! Then our hungry stomachs growled. Uh-oh. Need to eat breakfast.
We hurriedly took our luggage, went through customs, bought a Vodafone sim card, ate at McDonalds, then off we went to the train station, which is just a level below the airport.
How transportation is in Sydney
We planned to buy Opal cards immediately when we arrive at the airport. But luckily, we met an old couple, who were on their way to a flight, and they gave us theirs with a few dollars still in it. Yey! We added $50 and it got us through the entire week. You get free rides though on Sundays and after around seven rides. Correct me if I'm wrong on this one. The Opal website provides more information about this.
In going to our apartment, we simply took the train and asked for directions. We did not hire a pick-up service because expensive. Frugal much. Haha!
Overall, Sydney train system is pretty much efficient quite similar to Singapore. A little familiarization on the train map and asking for directions can help ease up your transport experience in the big city. Also, it is best practice to look at the stations' TV screens as it shows the route of the next train. This is because some trains will skip non-major stations, which hopefully would not be your specific destination.
The Sydney transport website is a very helpful resource, and the Opal Travel app as well, to familiarize yourself a few weeks before your trip.
Where we stayed
We stayed in an Airbnb apartment in Edgecliff, which is only three train stops away from the Central Business District (CBD), eight stops from the international airport, and one stop away from the beaches. We found that staying in hotels in CBD is way too expensive for us and staying in hostels is not practical for us who are traveling with an infant. Also, we didn't mind the walk from the train station to the apartment or vice versa, which only takes about five minutes or so.
In the apartment, we were able to wash laundry, cook our food, sterilize baby bottles, and pretty much anything we wanted. The downside though is that the apartment is on the third floor of the building, which does not have a lift. Same goes for the Edgecliff station, which does not have any elevator and that was inconvenient for us who were bringing a baby stroller. Our friend told us not all stations necessarily have lifts, especially if it is not a major station.
Other than that, the apartment was great. It got everything we needed: toiletries, detergent, shampoo, soap, cookware, wifi, tv, dining ware, blankets, towels, and more. We only have to buy our own food supplies, which was no big worry since Coles is just adjacent to the train station.
TIP: For your accommodation, you can get $50 off on your first trip to Australia via Airbnb. Click here for more info.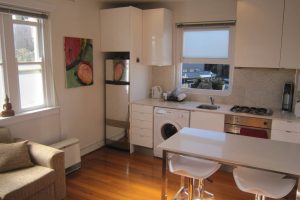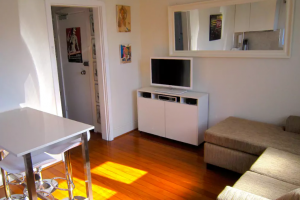 Activating our bank accounts
The hubby opened bank accounts in ANZ and NAB, both in Australian currency. He did that in Singapore, and the activation must be done in Australia itself. So that's the first thing we did on our second day.
My cousin who is based in Sydney advised us that Commonwealth Bank is also a good option as it is a popular one. Also, he (and my best friend based in Perth) advised us to register for a tax number, Medicare, Centrelink, RTA, and a credit card (to start our credit score, at least). However, all these required a permanent address in Australia, which we do not have yet at the moment. Hubby figured we will do it during our big move instead.
Our itinerary
Aside from Google, we used the Sygic Travel app to know the attractions worth visiting in Sydney, aside of course from the famous Sydney Opera House. In this app, you can browse through a vast database of tourist attractions, assign the dates of visit, know how long it would get from one place to another, and view the map of your itinerary.
Of course, we chose the public places such as Hyde Park, Royal Botanical Garden, and more. As for museums, you shouldn't be running short of options. Initially, we wanted to visit the Aquarium, Madame Tussaud, and the likes but hey, those places are available in Singapore. And they are not free. Are you noticing how thrifty we are? Haha! The frugal wifey in me decided that we visit only those places unique to Sydney. And amazingly, most are free. What a generous city! For example, the Contemporary Museum, Rocks Discovery, and Art Gallery are free. You just simply walk in. How is that!?! There are so many free things to do in Sydney!
Here's a brief summary of our actual itinerary:
Sydney Day 1: Airport arrival, rest at Edgecliff apartment, buy groceries at Coles
Sydney Day 2: Go to NAB and ANZ at the Edgecliff commercial center, Central Station, Hyde Park, Stroll around CBD
Sydney Day 3: Contemporary Museum, Rocks Discovery Museum, Rocks Market, Cadman's Cottage, Circular Quay, Sydney Opera House
Sydney Day 4: Bondi beach
Sydney Day 5: Sydney Opera House, Royal Botanical Garden, Mrs Macquaries chair, The Domain, Art Gallery Museum, Parliament House, The Mint, Hyde Parks Barrack Museum, St. Mary's Cathedral, Darling Harbor
Sydney Day 6: Meet the Perez's family at Parramatta, Meet our highschool batchmates at CBD, Paddy Market, Australian National Museum (comes with an entrance fee), Queen Victoria building
Sydney Day 7: Airport homebound
Clothes to bring for spring
September is the start of Spring in Sydney. The winter has just come to a close, leaving behind some cold rush of air. The temperature ranged from 16 to 20 degrees Celsius.
In terms of clothes, it is always wise to bring a lightweight jacket, scarf, pants, and cotton tops. And we did, then i realized it depends on your tolerance to cold. For me, I had to layer and layer but still felt cold. Meanwhile, the hubby was content on wearing cottonshort sleevess and denim pants. As for the baby, we clothed her with cotton long sleeves, pants, and a fleece jacket. She seemed content. However, we made a mistake by not bringing the windbreaker of her stroller. One night, her feet was so cold in spite of the fleece blanket we put on her stroller.
If you find yourself still needing an additional layer, there's Uniqlo or H&M in the CBD. And oh, it might be a good idea to bring an umbrella. But thankfully, we didn't experience any rainfall during our trip.
And then of course, bring a good camera
It would be a shame not to have remembrance of the beautiful sceneries and attractions that you will see in the land down under. It's a photographer's ideal place to capture breathtaking views.
Even though we were already bringing heavy things like stroller, huge diaper bag, and so so, we were determined to capture moments on a high-res, thus we brought the bulky DLSR.
Conclusion: "vibes" and impressions
Initial entry can give you a chance to first see the "vibe" of a certain state, rather than immediately taking the leap of migrating to a certain state.
We realized that we could have made a better decision by seeing the "vibe" of Melbourne as well. But instead, we were only able to see the Sydney "vibe". So in your initial entry, you might want to consider going from one state to another, or if time permits, to a few more states such as Brisbane or Adelaide.
Overall, Sydney is a great place for work, family, and leisure. You may find the place fitting for your lifestyle and preferences. As for us, we have yet to decide if we actually will settle in Sydney. Our Sydney-based friends though keep convincing us to choose Sydney. Hehehe.
Moreover, Sydney's beauty, culture, people, and city life are beyond words. I think it's a complete package overall. Go to the busy CBD for a city feel, go to Bondi to experience the beach, visit the museums to be culturally aware, watch a show in the Opera House, and the list goes on. I say Sydney has a lot to offer.
If you plan to visit Sydney anytime soon, I hope this article has helped you. Enjoy mate!

---
About the Author:
MommyCathy is a busy bee homemaker who blogs on the side. She used to work as a writer in the IT industry and now is on the quest to build an online empire via her blogs and digital services. Read about her family life in Melbourne at Raisinghearts.com