Driving in Australia: What you need to know
Driving in Australia is an amazing privilege. Being able expeience the wide-open space and amazing scenery, and not to mention the necessity of having your own car. Having a car in Australia is essential as it doesn't only give you the mobility to go around the places but also to meet the fast paced life in Australia. This article will help you through the basic know-whats and know-hows in Australia. Let's get you all set up and prepared for to begin the adventure of Australian driving.
KNOW YOUR STATE'S DRIVING RULES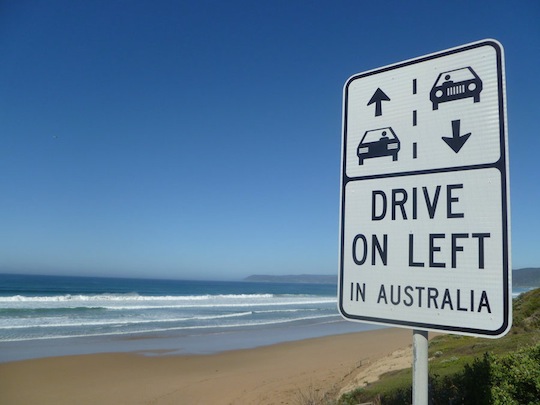 First of all, before we begin, it is very important to identify which state you will be driving because each state has their own rules and regulations. Australia is a left side driving and common rules such as driving ethics, honking, signals, all apply.  They may have similarities and they will also have differences. We have list down the official website link for each Australian state for your reference. So read away once you are done with what we have to say down below!!
GETTING ROAD READY 
To be able to drive you have to have a VALID overseas license If it is not written in english, it should be have a translation. If your license doesn't have a translation with it, you have to secure an International Driving Permit issues from your home country to be able to drive away. In some states, foreign licences are only valid for driving in Australia for up to three to sixth months but if you are on a student or temporary visa, you can drive with your international license without problem. Australian driver's license are issued by their respective state authorities. Visitors with licenses from Austria, Belgium, Canada, Croatia, Denmark, Finland, France, Germany, Greece, Guernsey, Ireland, Isle of Man, Italy, Japan, Jersey, South Korea, Luxembourg, Malta, Netherlands, New Zealand, Norway, Portugal, Singapore, Spain, Sweden, Switzerland, United Kingdom and the United States may convert their foreign licenses to an Australian one after paying an administrative fee. All other foreign license holders are required to sit for a theory and practical test before they can get an Australian license. We will do an article of how to obtain licenses from each state in a future time.
The Caste System of Drivers
There are four types of driving license in Australia. We have the learner's, Red Ps, Green Ps, and Full license. Each state will have different ways to obtain each stages. If you have an international driving license, aged above 25, and passed the driver's knowledge test in one go, then you can generally jump over and go straight to full license. This will depend again on each rules in each state. Read through the different rules as per state. We will create a post on each state soon.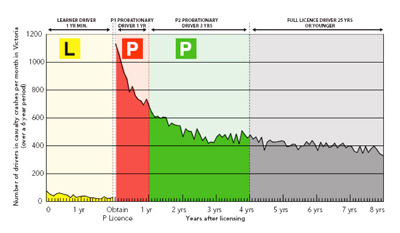 Seatbelts: All about the safety, Mate!
One of the main things to remember here in Australia is that safety is always the number one priority. Rules have been enforced to reduce fatalities in accidents. That is why the use of seat belts are compulsory for every drivers and passengers. Infants are also required to use approved safety capsule, child seats and harnesses while in vehicles. All of the state in Australia enforce the use of seatbelt by law and it is the driver's responsibility to always make sure all passengers are buckled up. The penalties are applied unto the driver of the vehicle. This can also cost you demerit points that can lead to license suspension if you run out of it. The usual fine for not wearing seatbelts is around $250 per person that did not comply to the seat belt rule.
DUI or also known as Driving under the influence of alcohol or drugs
This is a serious offence and can lead to legal issues. Only a mere 0.05% of blood alcohol limit is allowed in every state in Australia. But learners and Provisional drivers are not permitted to be influenced by any at all while driving. There are random check points set out in suburbs or highways wherein police will do random breath tests. Anyone can be pulled over and stopped to perform the random breath test. First time offenders will only get a fine and will be given a period of license suspension, given that there are no aggravation during the incident. Refusing a random breath test will impose similar penalties as a positive in DUI.
Speed cameras: Say cheese!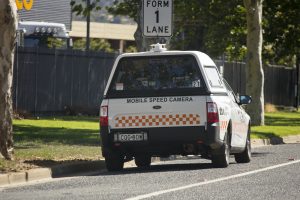 Speed cameras and red stop cameras are scattered all over Australia. Some states even use hidden camers, while others are openly seen. They come in different sizes and form and can even look like parked cars. Fines can go up to $200-300 depending on the penalty incurred. Exceeding the speed limit by more than 30km/h can result in a court appearance and possible criminal conviction. Red light and combined red light/speed cameras also operate at many urban intersections and a similar fine will result.
Watch where you are going!
Some motorways, bridges, and tunnels in major cities require payment of tolls. On some roads, a cash payment can be made at tollbooths on the road, however increasingly there is a trend to electronic collection of tolls via transponders fitted inside vehicles. Some toll roads do not allow for cash payment at all. If you drive on such a road without a transponder, a photo is taken of your vehicle's number plate, and you have a limited time (between 24 and 72 hours, depending upon the road) to phone a number or visit a website and arrange credit card payment (plus an additional processing fee) before a fine is issued. Toll roads are clearly signposted and opportunities to exit are clearly delineated before reaching the first tolling point.
Avoiding toll roads may save you a few dollars, but you may pay in extra travel time, fuel cost, and navigation difficulties, particularly during peak travel times. If hiring a car, ask the agency for advice on toll roads. A single transponder can be used on any toll road in Australia, regardless of which company issued the transponder and which company operates the toll road you wish to travel on. There is no extra charge for travelling on another company's toll road.
Kangaroos are REAL!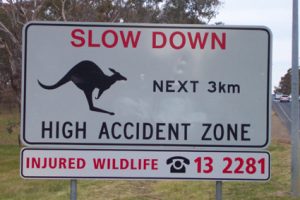 You might think that kangaroos are just seen in zoos, well think again. Driving at night or at dawn outside main cities can put you in close encounters with these jumping marsupials.  Be aware that it is not wise to drive at very high speeds at night in these areas due to cattle, kangaroos or other wildlife which may be dazzled by headlights and impact with your vehicle. Hitting a kangaroo at high speed will likely destroy the average car and kill the front seat occupants (hence the many outback vehicles you will encounter with large "bull bars" welded to their front). Drive carefully when you spot these big animals and be ready to use your brakes. Swerving to avoid an animal can also lead to fatalities, so if the choice is between hitting the animal or potentially losing control of the vehicle, hit the animal. So it is very important to be safe and keep watch on the road especially for those who are living or traveling outside major cities.
All set clutch to Drive! 
With these common knowledge passed on to you, I think you are ready to drive. Remember to go through your respective motoring groups and look through each states' rules and regulations. We will post an individual guide of each state in the near future. If you think I have left out something, don't hesitate to leave a comment down below! Cheers!
Here are the different State government authority that regulates your licences.
New South Wales
Victoria
North Territory
Western Australia
South Australia
Queensland
Australian Capital Territory