How to obtain a TAX FILE NUMBER Online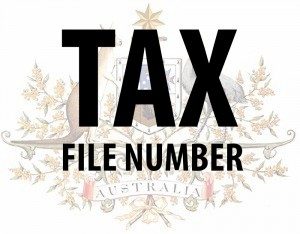 One of the main things we all came to Australia is to have that better standards of living and to attain that we need to have a job. Finding a job here in Australia can be as easy as 1, 2 , 3 or can be as hard as finding a needle in a haystack. BUT we wont be talking about that here. We will be discuss about getting you ready for the JOB. One of the main requirements in job hunting here in Australia is to have a Tax File number. This is a general requirement for all workers here in Australia. A TFN is a 9-digit number that is issued to each individual ONLY once by the Australian Taxation Office. It isnt just a requirements for employment but can also help in all sorts of transactions such as government financial assistance, dealings with the superannuation funds, as well as, lodging an income tax return. The guide below will
To all migrants/international students/visitors: You must be in the country to Apply.
If you are a skilled migrant or a temporary resident, you cannot apply not unless you are in the country because you have a have a residential Australian address to register. This includes, overseas students with working rights and other legitimate working visa holders.
What are the requirements?
To be eligible to apply for the Tax File Number, you have to have the following:
1. A valid travel document or passport.
2. have an Australian address. ATO will email you back a letter that will contain your 9-digit Tax File Number.
3. Have a valid visa that allows you to work in Australia that can be a permanent migrant visa, visa with working rights, overseas student visa or a visa that allows you to stay in Australia indefinitely.
Once you have entered Australia you can directly apply for your TFN Online. It usually takes around 15-20 minutes to complete the whole process. After you have completed it, you will receive a transaction number which you can start using until you receive the letter from ATO that contains your Tax File number. You are also required to bring 100 points of proof of your identity to participating Australia Post outlets.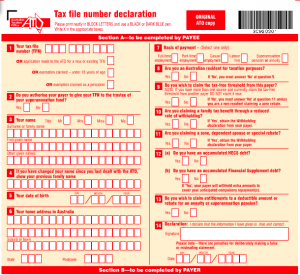 When using your tax file number, your employer will ask you to fill out a TAX Declaration form (Image on the left)  before you can start your employment. It is a mandatory requirement for the part of the employer to submit your details to the ATO to indicate that you are employed under them. In filling up this form, it is important to put 'YES' under the question; Are you an Australian resident for tax purposes? So what does that mean? If you have a valid visa, it will indicate that you are either a permanent resident or a temporary resident. You are a resident of Australia regardless of your visa status because you reside here in Australia now.
Remember Only one tax file number can be issued to you. Once you have a TFN and you wish to change your details, this can be updated online through myGov account which is linked to ATO. You can find out more about myGOV here.
If you are ready to apply, here is the link to apply for your tax file number online.
With that done, you are one step closer to being JOB READY!