My Two-day trip to Kangaroo Island in South Australia
Living in Australia has been a great experience for me especially in South Australia where I was undertaking my Master's degree as an international student. I often heard from many people that there is nothing much to do in South Australia because of its small size. Trust me, this is not true. I have explored many parts of Adelaide and South Australia during my stay there; wildlife parks, islands, malls, beaches. I don't remember any place which I have not visited there. Among all my trips, the best one which I remember the most is 'Kangaroo Island' tour from South Australia. I went there with my university fellows and honestly, that was the best trip which I have enjoyed the most.
Kangaroo Island is located in the southwest of Adelaide. It is a remote and wonderful place that gives you the opportunity to see South Australia's natural reserves and wildlife. It is home to many animals including koalas, sea lions, goannas, kangaroos and bird species.
My Travelogue to Kangaroo Island:
We booked our two days tour with a travel company 'Words on Wheels' which is one of the best in South Australia. Not only they guided us in detail throughout the tour, they also took care of our special dietary requirements.
It was December 15th when we all gathered at Adelaide Convention Centre at around 8 am in the morning. There were two great tour guides waiting for us. Jayne and her husband were very nice and kind to all of us. They guided us towards the bus and told us itinerary of our tour. Our bus made its way towards Cape Jervis where we had to catch Sealink Ferry to Kangaroo Island. On our way, we spotted beautiful Aldinga beach of South Australia. Within an hour, we arrived at Cape Jervis and moved to the huge ferry. The ferry was very cozy and comfortable for us. We just sat for a while and moved around to enjoy the breathtaking views outside.
Within 45 minutes, we arrived at the island where we were again transferred to our bus. The weather was average; it was sunny but a little windy. Our first stop was Flinders Chase National Park where we visited 'Cape De Couedic Lighthouse'. It is named after a French Navy Officer named ''Charles Louis Du Couedic'.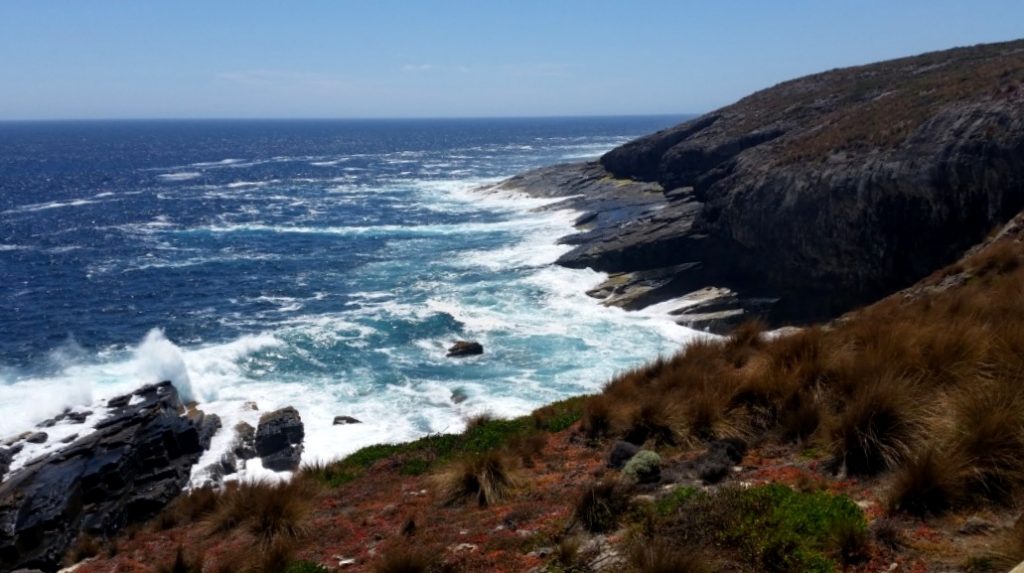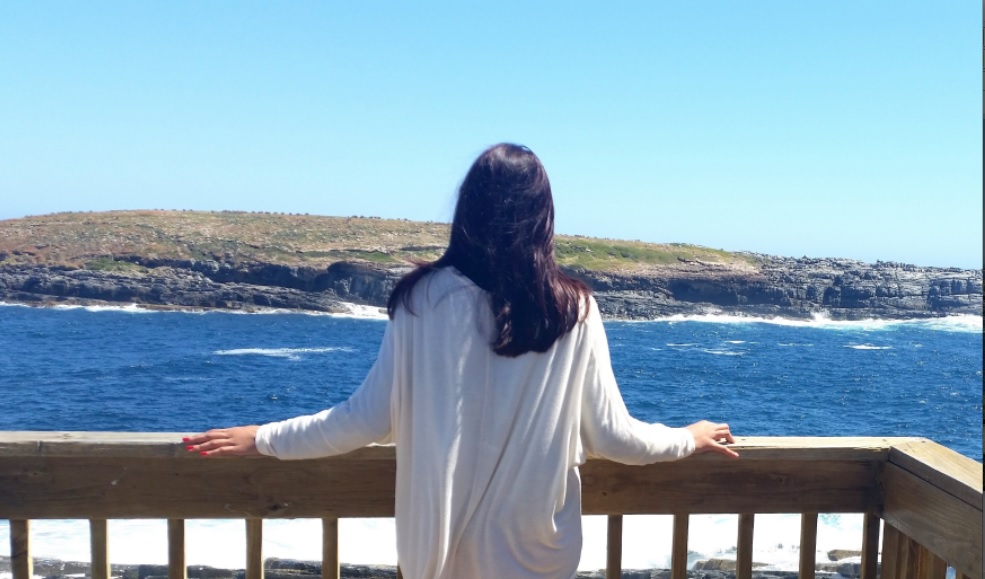 We stayed there for few minutes, took pictures and made our way to the famous 'Admirals Arch' which is the most stunning natural landmark of Kangaroo Island. There were long boardwalks on the way to Admirals Arch. It took us good 15 to 20 minutes to go down there. On one side, there was spectacular blue colored river and cliffs.
Admirals Arch is situated at the end of the boardwalks. We finally arrived there, and the view was just breathtakingly beautiful. There were many fur seals resting on the rocks formations in the water. It was such a beautiful sight to watch. We stayed there for some time and made our way back through boardwalks.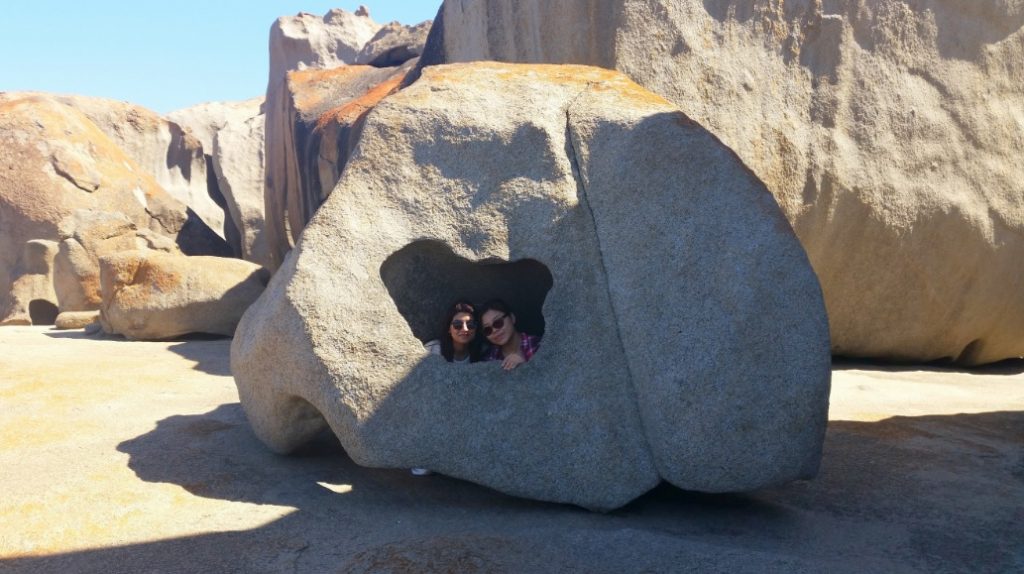 Our next stop was the famous 'Remarkable Rocks' which are naturally sculptured rock formations in the Island. There we had a great time exploring the granite rock formations and the ocean. We were advised to not go near the edge of the cliff as it was very slippery. Our tour guides arranged delicious lunch picnic afterward.
It was night time, so we made our way to our accommodation which was 'KI Woolshed'. It was like a farmhouse located in between the forest. We could hear the sound of animals nearby. We were guided towards our comfortable rooms where we rested a bit and then came out to enjoy the sunset and prepared our BBQ for bonfire night.
We really enjoyed eating delicious steak, salad, drinks, fruits and dessert which we all made together. It was a memorable night with our friends.
Early morning next day, we had freshly made breakfast and got into our bus along with our bags. The weather was getting a bit cold so we wrapped ourselves in jackets and sweaters. On the way, we spotted wild kangaroos crossing the roads.
Our first stop that day was 'Seal Bay Conversation Park'. Like the name says, this is the beach area where a large number of seals are residing. We were accompanied by a guide lady of that park who took us further near the beach. We couldn't go too close to the seals due to their safety reasons. Some of the seals were sleeping near the water while others were walking on the sand and entertained us. We took many pictures and videos of these amazing creatures.
It was afternoon, so we headed off to 'Little Sahara Desert' for sand boarding. We enjoyed walking and playing in the sand and then moved to ''Vivonne Bay'.
Our guide persons started preparing our lunch there in a small area while we explored the Park. After walking further down the park, there was a spectacular blue beach where we could walk in water, swim or even get into boats.
While we were having our lunch, we spotted a small goanna lizard nearby our bench. It was scary at first, but that lizard just moved slowly outside without bothering any of us. Late in afternoon, we arrived at our last stop which was 'Clifford's Honey Farm'. The shop had the purest honey and other natural stuff from Island. I bought a few honey jars in different flavors to take back to Adelaide. I also got natural goat milk and honey soaps which smelled delicious. After a short drive, we reached at Penneshaw to catch a ferry back to home. It took around an hour to arrive at the Sealink Stop where we moved to our bus. On our way back, our tour guides stopped at Yankalilla (a town in South Australia) for yummy pizza dinner.
We arrived at Adelaide safely at night. We were extremely tired but it was worth it. This two-day trip was the most exciting of my life where I got a chance to spend great time with my friends. Away from the crowd and busy city life and having no connection with outside world (there were hardly any mobile signals) was the best feeling ever.
What to bring to Kangaroo Island:
Comfortable walking shoes (no high heels if you really want to have some fun)
Warm clothes
Waterproof jacket (in case of rain)
Water bottle
Camera and phone chargers
Snacks to eat in the bus
Towel
Personal items (toothbrush, soap, shampoo, sunscreen etc.)
Small suitcases
Budget for Kangaroo Island:
If you are booking with 'Word on Wheels' then they have a special package for Adelaide students; $290 (can change depending on the circumstances). Price for a regular tourist is also not too expensive. Words on Wheels tour offer you breakfast, lunch, dinner, accommodation plus all entrance fees and ferry fare in the fixed price. You don't have to pay anything extra except for the items which you buy from Kangaroo Island.
Visit their site for further information: http://www.wordsonwheels.com.au/
If you are planning to visit South Australia, then I highly recommend you to visit Kangaroo Island and enjoy South Australia's natural reserves and wildlife.
Latest posts by Madiha Khadim (see all)