Bucketlist: Fly a Jetboard
I recently turned 33 and I celebrated it with another bucketlist item ticked off – FLYING A JETBOARD (or at least giving it a try). This adventure didn't linger long in my list as I had only known about this 7 days before my birthday, when I was browsing the web to find something new and interesting to do on my birthday. Yes, I've stopped thinking about throwing a party, lavish or not, and instead decided to enjoy it with a new experience!
After confirming with Jetpack Adventures' friendly staff about the repercussions of flying either a jetpack or jetboard for first timers, especially for non-competent swimmers like me (they reassured me I will be fine and won't drown because I will be wearing a wetsuit and swim vest), I booked a 1 flight Introductory Jetpack Or Board (45 minutes) gift voucher, for AU$175. I also purchased the Video Package 1 – Starter for additional AU$30 to capture this thrilling experience. I opted for the voucher rather than a selected date booking to avoid having to pay the $50 rescheduling fee (within 24 hours of confirmed booking time). That being said, vouchers can be redeemed by booking preferred date and time via online or by phone. I booked my 4pm jetboard flight same day in the morning.
Jetpack Adventures has several locations across Australia, with Sydney – Penrith being the closest to me. Unfortunately (but good in a blessing-in-disguise kind of way too), the Sydney International Regatta Centre in Penrith was not available last Sunday for Jetpack or Jetboard flights. And because my appetite for novelty was at its peak, we decided to drive about an hour to the second closest location – NSW Central Coast – Mt. Penang Gardens Jetpack Lake in Gosford. It sounds far, but really, it's just a few minutes after the M1 Gosford Exit – approximately 26 minutes from the start of the M1 Pacific Motorway, also known as F3 Sydney-Newcastle Freeway.
We arrived at the Jetpack Lake on the dot – 4PM. The sight of a man enjoying his jetboard welcomed us, which made me more excited to jump in and get the adrenaline pumping. My 4PM booking was inadvertently delayed because the large group of flyers before me obviously had so much fun that even the people who came as spectators decided to fly the jetboard as well.
After watching and observing 4 flyers, it was my time to gear up and rip into it. I was advised by one of the instructors during the "on land safety and how-to training" that the jetboard is more suitable for me. The jet pack unit weighs around 45 kilos, and with it strapped on me, keeping buoyant when I fall underwater might be a bit of a struggle. Apparently, I'm a bit tiny for it. I felt the instructors meant well, so I took his expert advice.
I am a self-confessed thrill seeker, unfortunately I can't swim to save my life. So, I was a bit scared. Luckily, Dereck, the instuctor who operated the jetski that powered up the jetboatd attached on my feet was very reassuring and patient. He did so well in making me comfortable and "confident". BUT flying the jetboard well takes a lot more than confidence! It needs balance and strong legs. Things I realised I wasn't gifted much with. It took us countless tries until I finally got up above the water. I learned, and I was told, that my legs are not strong, that's why I couldn't push down the pressure underneath the board causing me to lose balance. And when I eventually managed to fly the board, the aerial balancing problem came in. I couldn't hold it together. But hey, like they say, it doesn't matter how many times you fall, what matters is how many time you get back up, shake it off, and try again.
10 minutes into my 45-minute adventure package, I've come to understand this was way harder than the videos I've watched in youtube. I've nose dived into the water too many times to count. Having said that, I wasn't put off. As a matter of fact, I had so much fun I didn't notice the time. AND I still managed to "fly" above water even just for a few seconds. I'm a first timer, I'm entitled to be happy with small achievements.
TIPS:
1. Amenities at the location is limited. They only have marquees with chairs and a container to change clothes. So it's wise to use the toilets at the Waterfall Cafe, 170 meters before the Jetpack Lake entrance.
2. If like me, you are keen to capture your experience in photos or videos, fly in the morning. The marquees are set up east side of the lake, so getting great photos with the afternoon sun is a challenge.
3. If you have an eye for cars and automobiles, and if the sight of Ferraris, Lamborghinis, Maserati, Bentleys, Rolls Royces, Cadillacs and other unique cars appeal to you, the Gosford Classic Cars Museum is definitely worth a visit. It is the largest car museum in the Southern Hemisphere. The astounding showroom encompasses over 450 cars and motorcycles, with stunning makes and models including supercars, modern and vintage classics, military cars, and even communist cars.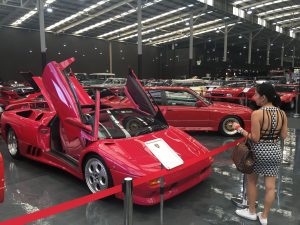 4. The coastal city also offers dining with views at The Coast. We had a lovely lunch with amazing ambiance. I just wish we had more time to sit back and enjoy the ambiance.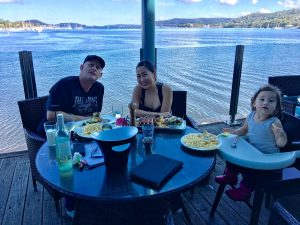 If you've seen the videos above you can imagine how sore my body was after this experience. I had body pains for 3 days, but it is all worth it. And yes, I would do this again!
So, to wrap this post up (apologies for the length) I'd give kudos to the instructors who were so professional, patient, and encouraging! My birthday bucketlist item was ticked massively!
Xoxo,
Mom The Explorer ?
PS. If you think this experience is worthy to be in a bucketlist or if you or someone you know loves adrenaline adventures, feel free to share this post. ?

Analyst
at
Deloitte Australia
Hello, kindred spirits. I'm made in the Philippines, packaged in Australia, and hopefully distributed around the globe. Yes, I am a work in progress! I'm a wife, mother, full-time Big4 employee, part-time postgrad student completing the CA (Chartered Accountants) qualification, adrenaline junkie, bucketlist fanatic, and a newbie blogger. No, I'm not a superwoman or supermom, I'm just an ordinary mom with extraordinary ideas and aspirations. You might say I'm too full of myself for self-proclaiming the things in my head extraordinary, but hey, they are my way of motivating myself yo keep pushing forward even when the going gets tough.
To say raising a child is not easy is an understatement. Whether you are raising your child as a stay-at-home mom or as a career-mom is completely irrelevant – the struggle is real either way. I chose to join the latter group because I personally believe in doing so I'm helping myself and my child grow in enourmous ways. I get to go out and pursue my professional career from my 9-5 job while my child gains exposure and invaluable opportunities for learning and socialization.
I have an adorable toddler, Little Miss. This blog focuses on my journey and my attempts (successful and failed ones) to juggle all the roles I voluntarily signed up for. I will also slightly touch on my previous travels and bucketlist items ticked off before motherhood took over.
Thank you for reading this far and I hope you join me as I venture into the unknown – the ups and downs of being a career-mom.

Xoxo,
Mom The Explorer ?

Latest posts by momtheexplorer (see all)