Carnival Experience With Toddler (Sydney Royal Easter Show 2017)
Most often than not, new parents with little ones often wonder whether their toddlers are ready for a day out at the carnivals and which rides they are likely to enjoy. We had the same dilemma last year when we thought our little girl was a little too young to be startled by the hustle and bustle of busy and crowded carnivals.
This year though, Raicheal is already 2.5 years old, so we decided to give Australia's annual Sydney Royal Easter Show a go. Being our first time to bring her to such event, we didn't have much expectations. We hadn't made any great plans either. As a matter of fact, we got our tickets and entered the showground at 2:30pm, when the place was already mobbed. My first thought was, "oh dear, bringing a young toddler here looks like a terrible idea". I was completely wrong!
The first hour or so went by slow and chaotic at best. We didn't know where we were going, because I accidentally threw out the event guide/map the crews handed us at the entrance. Oppss! Yes, we could've easily downloaded the guide/map from the website, but we decidedly took the adventurous way of playing it all by ear.
The highlights of Raicheal's first easter show experience were the trip to the Dog Pavilion where she got her first pet, the inflatable dog. She wouldn't leave the pavilion without it.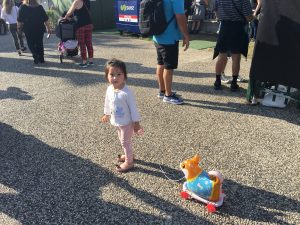 Another big hit were the carnival games stalls with prizes to be won. After a few hits and more misses, we came home with jumbo sized Peppa Pig and Mickey Mouse. Raicheal had been a big Peppa Pig fan and having been able to finally get a bigger Peppa was a massive treat!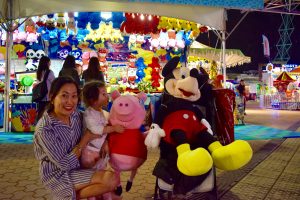 And the rides! Yes, the RIDES, were awesome even for a 2.5-year old toddler! It took us as while to finally get to the Kids Carnival area, but we were glad we didn't give up. We tore through the crowds from the adult rides, spooky haunted houses and hotels, pavilions with various shops, showbags stalls, arts & crafts exhibits, live shows and competitions, the Woolworths fresh food dome, and the animal walks and farmyard nursery (where we missed most of the good stuff ie. Interactive learning opportunities for the little ones). To be honest, I was a little disappointed with how unorganised of a mother I was.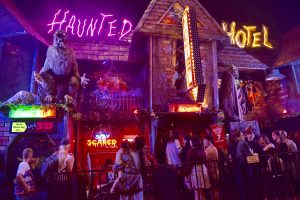 Luckily, there were glimmers of cheer and enjoyment when Raicheal's face lit up after seeing the Animal Kingdom Jungle Safari and the other rides nearby. We started our hours of fun and adventure with the jungle-jeep ride deep into the highly themed African jungle. The interactive experience was exciting and Raicheal loved it when the exotic animals pop up after I hit the targets. And she loved driving the jeep too!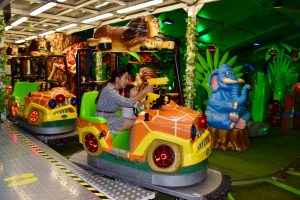 Other rides that caught our little thrill seeker's attention were the Carousel – who doesn't love a ride on the prancing horses in a well decorated and lit up carousel? Raicheal loves giving daddy the "thumbs up" too, every time we passed by him.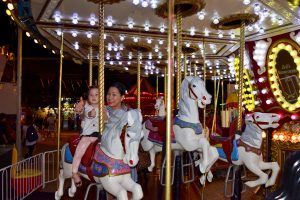 Jumbo Flying Elephants – these colourful flying elephant carriages were intriguing, even for a big kid like me. I didn't quite know what to expect in this ride as it was the first time I've been in one. Apparently, there is a foot pedal to control how high or low you want to ride your elephant. Surprisingly, Raicheal loved it when I flew it up high. I could see the excitement in her eyes and she was mesmerised with all the rainbow whirl of lights on the ride itself and the whole showground, looking from up above. And the elephant honking button was a gem, too.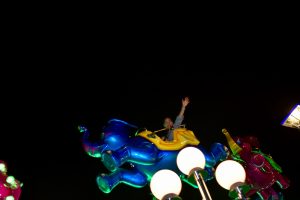 Fantasy Cups – I took the liberty of picking the purple fantasy cup and saucer to spin us around into the fantasy world. This was fun and dizzying at the same time.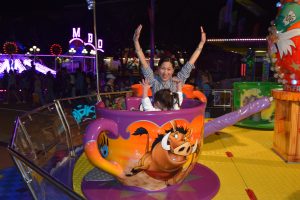 Samba Balloon Race – these family size balloons were excellent for families with little and not-so-little kids. Once seated and strapped in, your little ones can control how fast or slow they want to "race", and the bubbles were a great addition, too.
Outback Monster Truck – Raicheal had an ear-to-ear grin when we rode the outback monster truck. She is a little girl with an eye for big adventures. She was behind the wheel and she was so excited when she felt the bumps and car crushing motions of our 4×4 monster wheelie.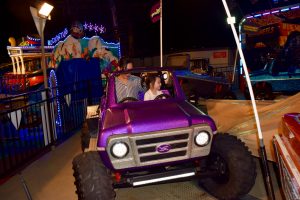 Royal Double Decker Carousel – we went for two rides on a beautiful horse at the classic merry-go-round carousel. So, this time, we opted to take a relaxing ride on the swinging bench at the top deck of this stunning luxury carousel.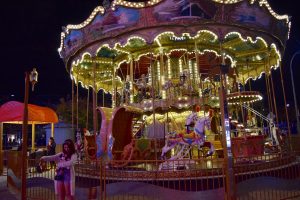 Mini Railway – we jumped aboard the mini railway before heading home. Raicheal likes trains and she points at them whenever she sees one – at toy shops, on videos, and more distinctly, on the railway tracks when we're driving around. I could see the thrill on her face when we rode the mini railway.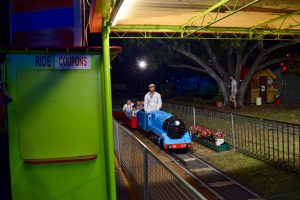 As you can tell, we had an amazeballs time at the Sydney Royal Easter Show. And from our experience, I came up with a few handy tips to make your next trip to the royal easter show a memorable one and make the most out of your money and time.
TIPS to make your next trip to the easter show or similar carnival a success:
1. Plan ahead – if you go in with kids, your main goal is probably to see and do something that interest your little ones. I suggest you go straight to the Pet Pavilion, Animal Walks, Live Shows, Farmyard Nursery, Little Hands on the Farm, and the Kids Carnival Area. We missed the up close and interactive experiences with the animals, so next year these will be on the top of our list.
2. Schedule wisely – kids have short attention spans, and sometimes they can throw in challenging tantrums, too. It will help to know what programs and schedule would work best for your child beforehand. Check out the event website for programs timetable and tailor your day's activities to child's liking.
3. Arrive early – don't be like us who came in well past midday. By this time the showground was too crowded already, and your child would be tired from whatever they're doing in the morning as well. Next year, we will plan to start early, when the showground opens (9am). This way Raicheal can have more time to spend with the animals, live shows, and perhaps even give shearing a sheep a try.
4. Have a budget and stick to it – Everything is overpriced at the Sydney Royal Easter Show. If you don't watch your spending, you could very easily fork out $500 for the day. Entrance fees alone are $41.50 for adults, and $36 for children over 3 years old (children under 3yo gets a free entry to theshow). The rides need at least 5 coupons per person, and each coupon costs $1.10. Purchase coupons in bulk to avail of discounted price and pre-purchase your entrance tickets for better deals. Bringing your snacks and water bottles can help cut down costs, too.
Xoxo,
Mom The Explorer ?
Follow my blog with Bloglovin

Analyst
at
Deloitte Australia
Hello, kindred spirits. I'm made in the Philippines, packaged in Australia, and hopefully distributed around the globe. Yes, I am a work in progress! I'm a wife, mother, full-time Big4 employee, part-time postgrad student completing the CA (Chartered Accountants) qualification, adrenaline junkie, bucketlist fanatic, and a newbie blogger. No, I'm not a superwoman or supermom, I'm just an ordinary mom with extraordinary ideas and aspirations. You might say I'm too full of myself for self-proclaiming the things in my head extraordinary, but hey, they are my way of motivating myself yo keep pushing forward even when the going gets tough.
To say raising a child is not easy is an understatement. Whether you are raising your child as a stay-at-home mom or as a career-mom is completely irrelevant – the struggle is real either way. I chose to join the latter group because I personally believe in doing so I'm helping myself and my child grow in enourmous ways. I get to go out and pursue my professional career from my 9-5 job while my child gains exposure and invaluable opportunities for learning and socialization.
I have an adorable toddler, Little Miss. This blog focuses on my journey and my attempts (successful and failed ones) to juggle all the roles I voluntarily signed up for. I will also slightly touch on my previous travels and bucketlist items ticked off before motherhood took over.
Thank you for reading this far and I hope you join me as I venture into the unknown – the ups and downs of being a career-mom.

Xoxo,
Mom The Explorer ?

Latest posts by momtheexplorer (see all)