The Tasmania Mania (Part Two)
If there's one place in Australia that I consider a must-visit, it's Tasmania. Tasmania boasts a fusion of rich history and natural wonders. I've been lucky to have traveled to Hobart, the East Coast and Launceston in the winter. Although the weather was borderline unbearable at times (the temperature can drop to below 10 degrees Celsius and it can be windy), I still recommend this time of the year for two reasons: the flights are much cheaper and the roads and many tourist attractions are almost deserted.
In part one of The Tasmania Mania, I shared the numerous places you can visit in Hobart and in its surrounds. A minimum of 4 days is my suggested length of visit. If you have another 4 days to spend in Tasmania, you must drive to the north of the state.
In Hobart, it's ideal to drive but to get to your next destinations as you travel up the state, it's essential to have your own wheels.
Rent a car or caravan
Some people might be quick to dismiss the rental option. However, having your own means of transport ensures maximum enjoyment. You don't have to wait for people and suffer from exposure to annoying eager travelers.
Another option is to rent a caravan. According to a friend, it's difficult to steer it and accelerating it is a bit of a pain. On the other hand, the benefits include freedom and convenience. A caravan gives you access to basic facilities while on the road. Should you choose this option, take notice of the traffic flow when you're driving. If you have a few cars queued up behind you, please pull over when possible. There are a number of resting areas or bays where you can safely pull over for a bit to ease the traffic.
Also, remember to do the maths before booking a caravan as sometimes you can get good deals from hotels and it may come out cheaper to just book a room at every destination. Check expedia.com.au, au.hotels.com, wotif.com.au and stayz.com.au for good deals and read customer reviews on tripadvisor.com.au before making any booking.
Before you drive in Tasmania, please watch some YouTube videos on how to drive in roundabouts and familiarise yourself with the general driving rules in Australia. It's also handy to remember that you need to drive on the left side of the road, and that most people respect the lane markings and follow road rules.
Once you've sorted your travel and accommodation essentials, it's time to gear up for the East Coast.
East Coast: Where pristine beaches and solitude await you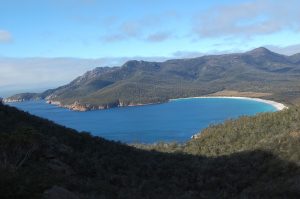 The drive to the East Coast from Hobart is long but definitely worth it. Wineglass Bay took my breath away in more ways than one. The walk to the viewing deck overlooking the bay was tiring and I was literally out of breath. However, the view was as glorious as I had imagined it to be. We didn't go down to the beach area as my legs were already tired, plus there were other places to see on our list.
At the Wineglass Bay parking area, a wallaby entertained us. This particular one showcased its people skills. I took photos of it, but I didn't come too close as it is, after all, a wild animal. Just a reminder, please do not feed the wallabies or treat them like pets.
The East Coast is beautiful beyond words. A swim isn't possible in the winter time unless your threshold for cold temperatures is high or comparable to that of a polar bear. You can, however, roll up your
denims, take your socks and shoes off and walk along the coastline.
The coast is dotted with picturesque beaches in Swansea, Coles Bay, Bicheno and Binalong Bay (Bay of Fires). A couple of full days in the East Coast is a minimum. The roads provide numerous seductive peeks of the clear blue waters and the tiny coves beckon you to stop and discover secluded natural gems. Make St. Helens your pit stop for a meal or coffee, a toilet break and visitor information.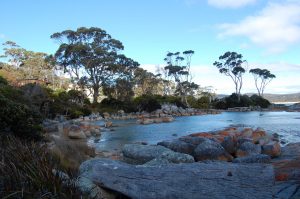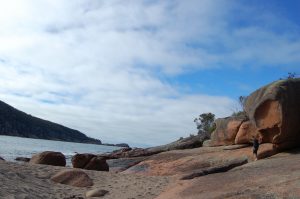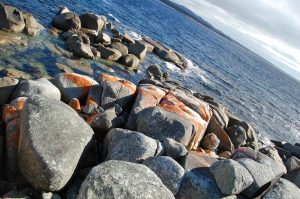 What's brewing in Launceston?
The winding roads to the north of Tasmania can be exhausting to drive. You'll go through mountains, fields and towns. It's best to travel in the daylight and to pull over at designated resting bays when necessary. Drinking coffee whilst driving in the mountains is a bit tricky as there are many twists and turns that require your attention. Talk to a friend or play some upbeat music to keep you awake, and most importantly, pull over to rest.
One of the more popular beers in Australia is Boag's and it's brewed in Launceston. Take a tour around its brewery and learn how much care is put into every bottle. After the 90-minute tour, enjoy the brand's different varieties of beer with biscuits and delicious Tasmanian cheese. Stay at one of the hotels nearby, so you can drink and eat to your heart's content.
There are a number of restaurants in Launceston with very good reviews. One of them is Black Cow, which is known for its tasty steaks. Remember to book in advance.
Immerse yourself in nature at the Cataract Gorge, which is a comfortable 15-minute walk from the city centre. If you decide to drive, be prepared to pay for parking. We were lucky to get free parking because the owner of the ticket had decided to leave minutes upon his arrival. The Cataract Gorge is immense and having access to chairlifts is great. Although quite high above everything, the trip didn't scare me. It has stops where people can get off and start their hike. The force of the water in the gorge is spectacular, and there is no shortage of wildlife and beautiful flora. Take the time to say hello to the peacocks and wallabies, but keep your food and drink out of their reach.
There's more to Tasmania
Hobart, the East Coast and Launceston are only 3 of the stops we were able to cover in our 8-day holiday. Friends, however, have persuaded us to return to Tasmania to explore Cradle Mountain. We'll definitely be back in the near future.

I had been a writer for 10 years before I emigrated to Australia to teach English. Writing brings me joy. I can write all day and still have a smile on my face. 🙂

If you've enjoyed reading my posts, check out my website: www.top5byanonymooo.com and read my top 5 lists of anything and everything. It'll mean the world to me if you can follow me, share my blogs, like, leave a comment, or subscribe. I won't let you down with my quirky, well-thought of and unbiased lists.

Cheers, mates! 🙂

Latest posts by top5byanonyMooo (see all)